Some things about the Christmas holiday are traditional, and are essential to the entire holiday experience.
(click on photos for full size image)
For instance, it just wouldn't be Christmas without Ralphie.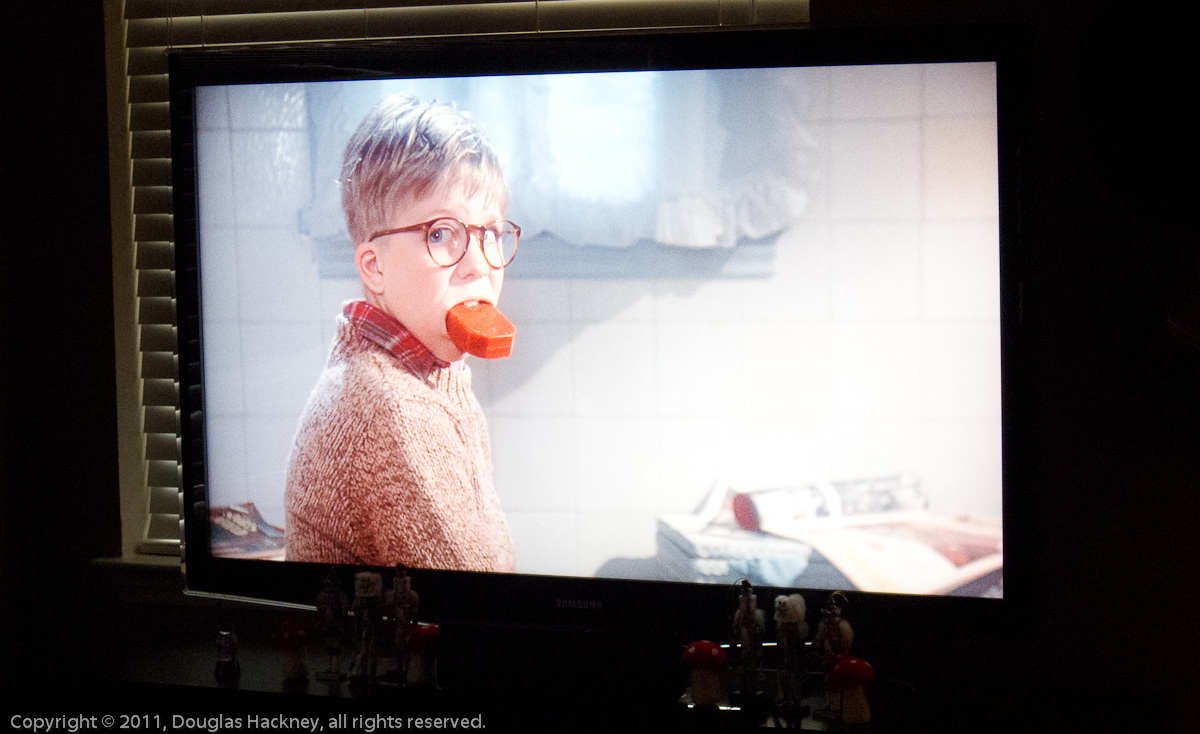 Others things are unique to that year's holiday, and make it a memorable, unique occurrence.
Such was our fate this year.
One of the kids, Shaun, is a chef. We had the great good fortune to have Shaun with us this Christmas. In addition to just sharing the time, which we always enjoy with Shaun, we also benefited from the fact that he can't avoid the compulsion to cook amazing food for more than about two hours.
Some of the food was, indeed, traditional, such as the Sour Soup that is a holiday-must in Shaun's dad's family, who hail from the former Czechoslovakia.
Mushrooms in: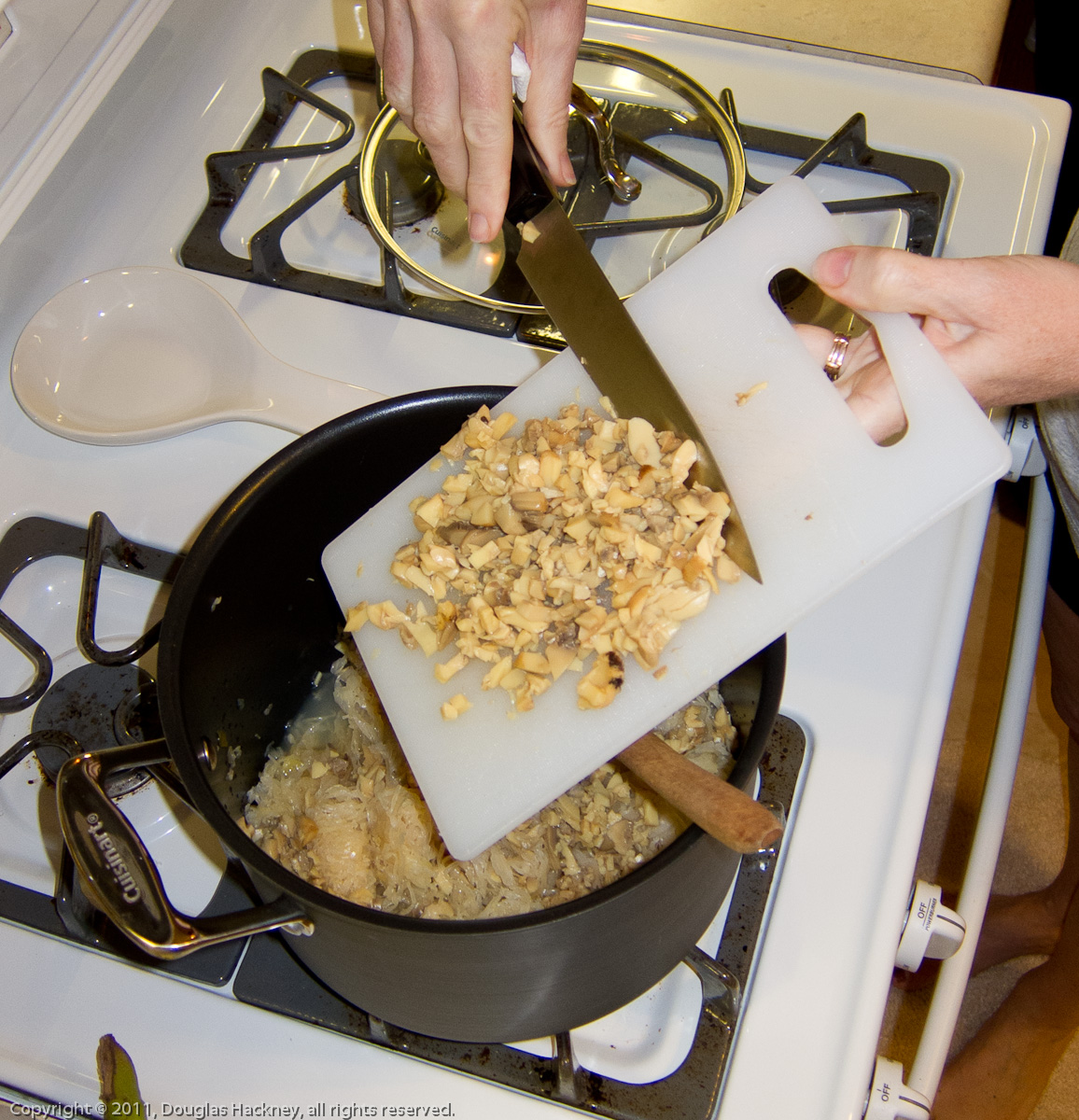 Finished product – trust me on this one, it's amazing: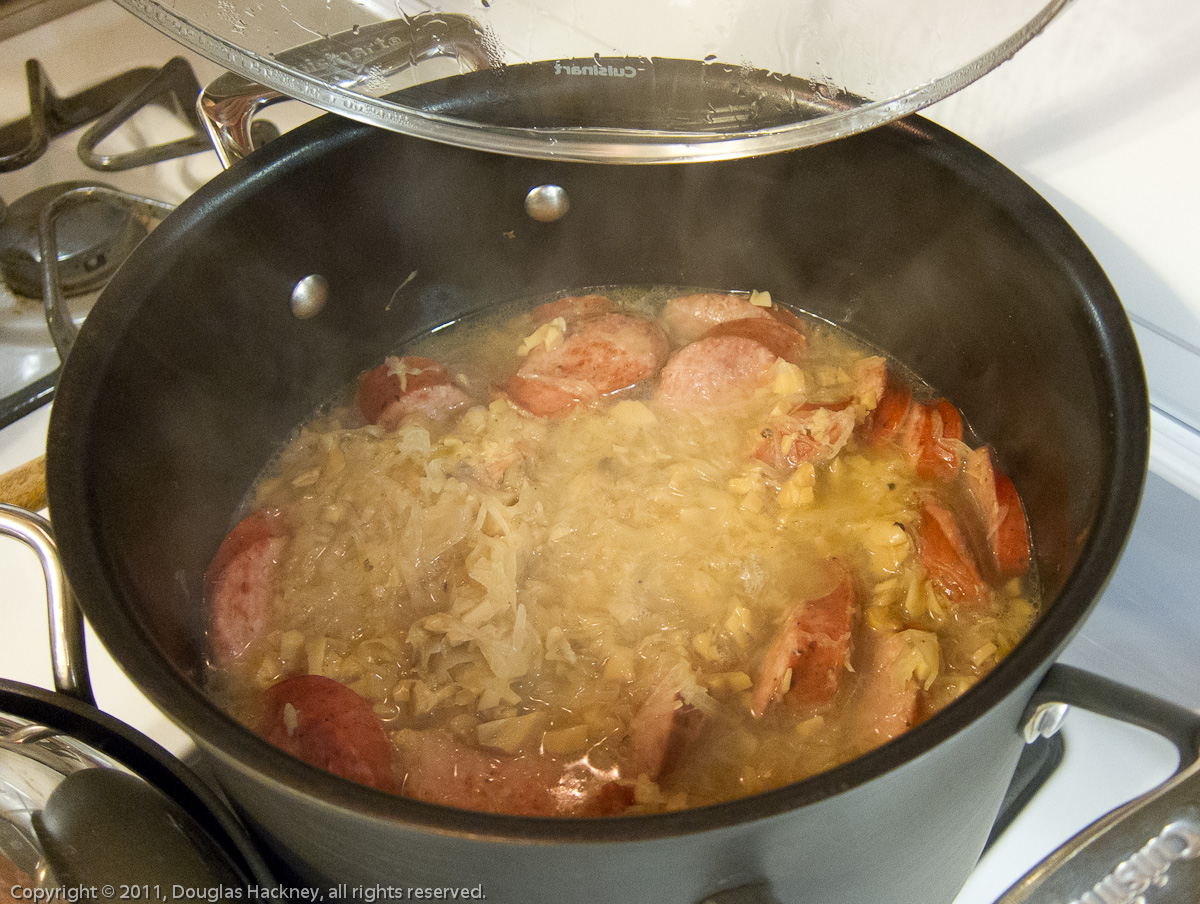 Other foods were less traditional, but even more amazing. About every two to three hours another delicious creation would appear from the kitchen. I can't begin to remember what was in each of them, so I won't attempt to list the ingredients.
In rough order of appearance:
Steph and Shaun's Bloody Mary fixin's. Tito's is a local Austin Vodka that they tell me is excellent. Those are Steph's homemade blue-cheese stuffed olives in the foreground.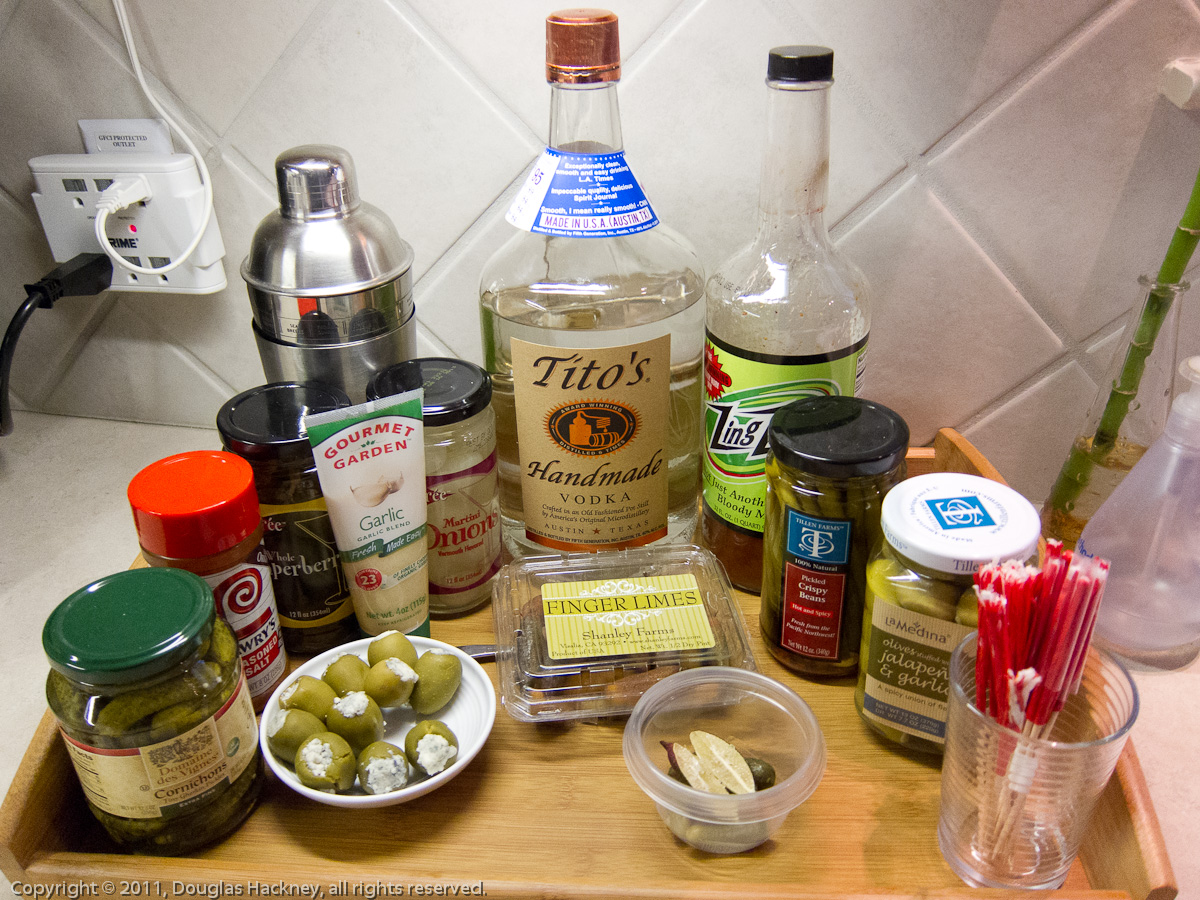 Steph's "meal in a glass" Bloody Mary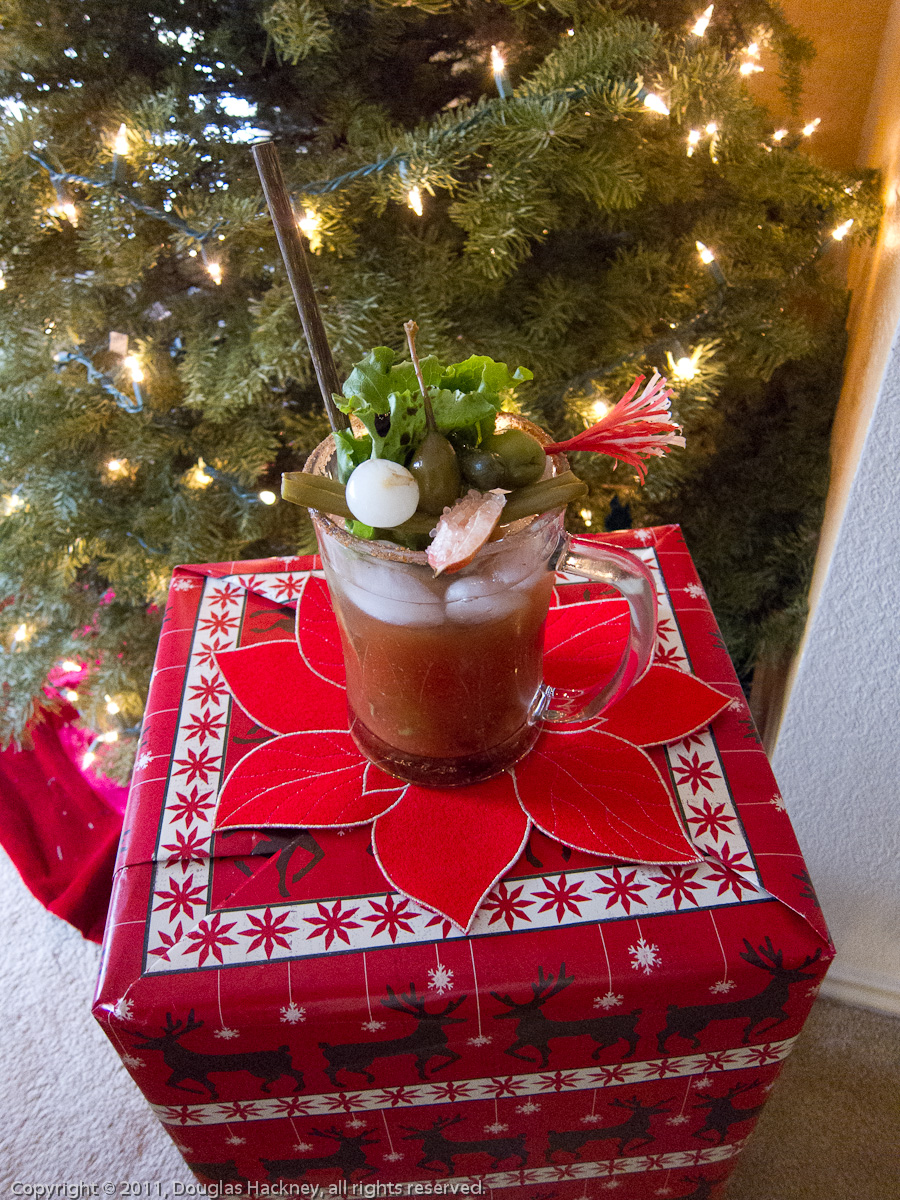 Lamb chops with a chimichurri-type marinade (it actually uses anchovies and a bunch of other ingredients, but Shaun describes it as "chimichurri" because otherwise people are scared to try it; that's a shame because it's amazing).
This marinated for 24 hours.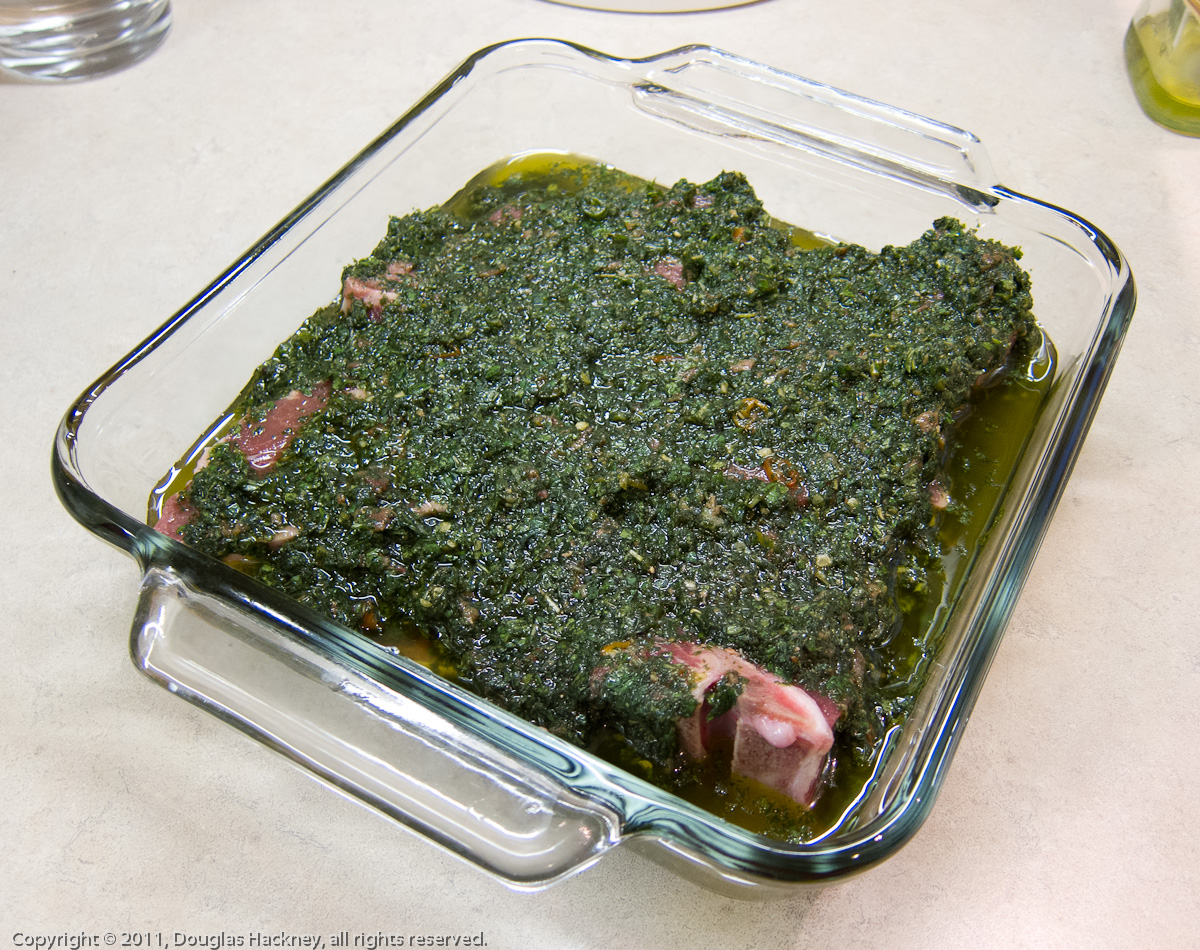 As the saying goes, "You either like bacon or you're wrong." The only thing I specifically commissioned all weekend was a bacon sandwich that Steph made for me. It was as good as it sounds. The bacon was also used in a variety of dishes and garnishes.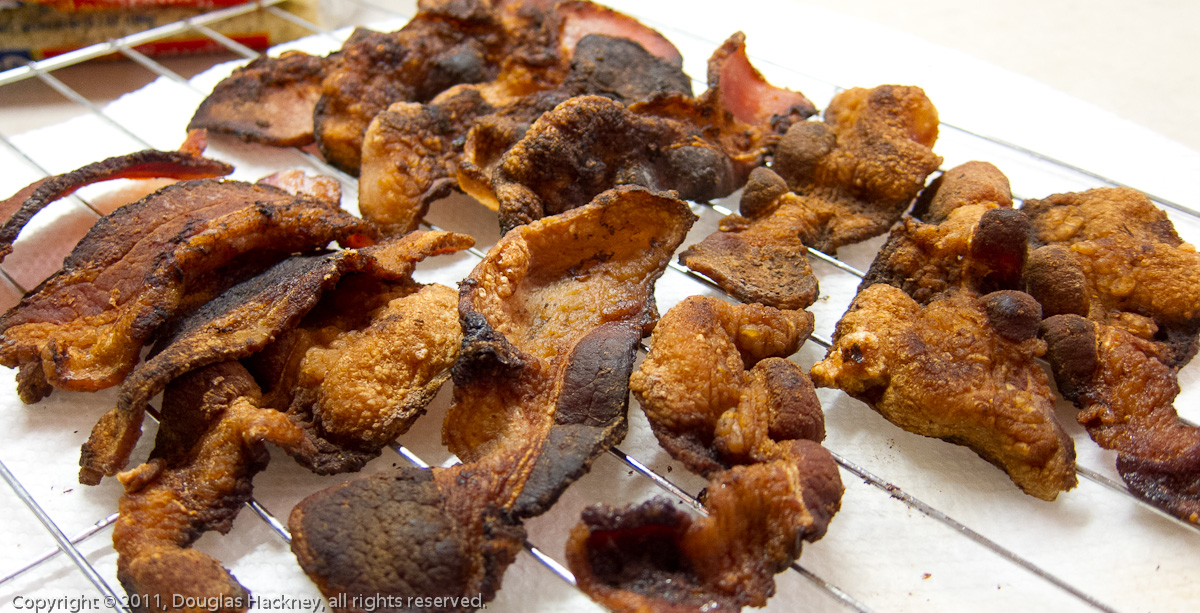 Christmas Eve dinner, which we usually make a snacky-grazing type affair. Note the white asparagus, which was a reflection of Steph's (and Shaun and my) German heritage, where it is a favorite.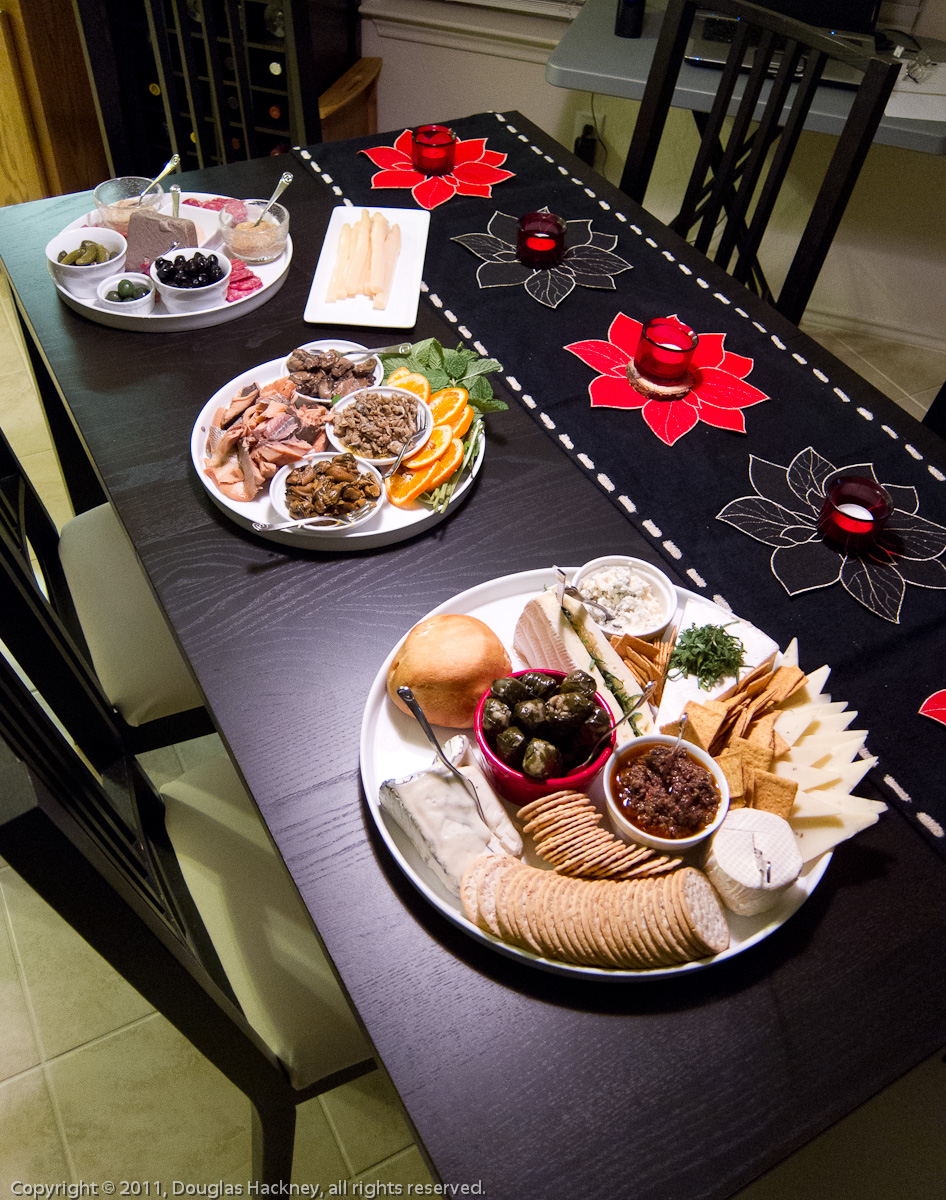 Christmas morning. This is the beginnings of Shirred (or Sheared) Eggs. Shaun credits this variation to a base recipe from Chef Emeril Lagasse.
You start by baking the Italian ham over some ramekins to cook off some of the fat.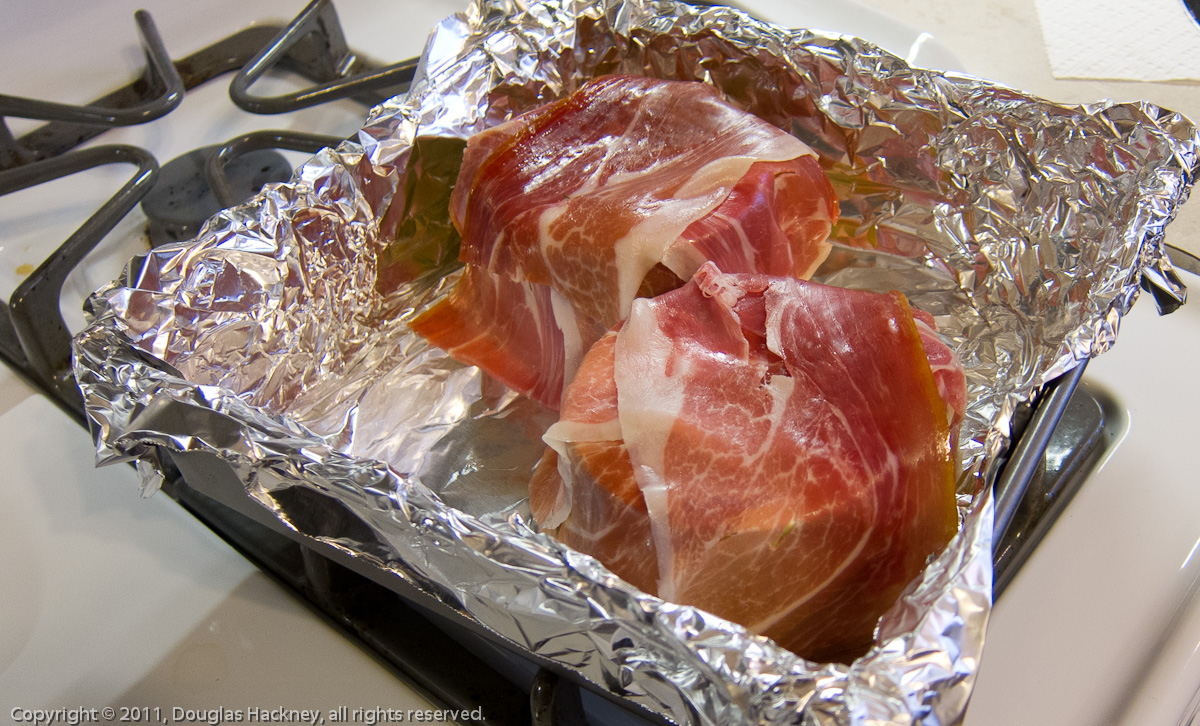 Then you line the ramekin with the ham and fill it with a mixture of eggs and other goodies, top it with some secret chef concoction and bake.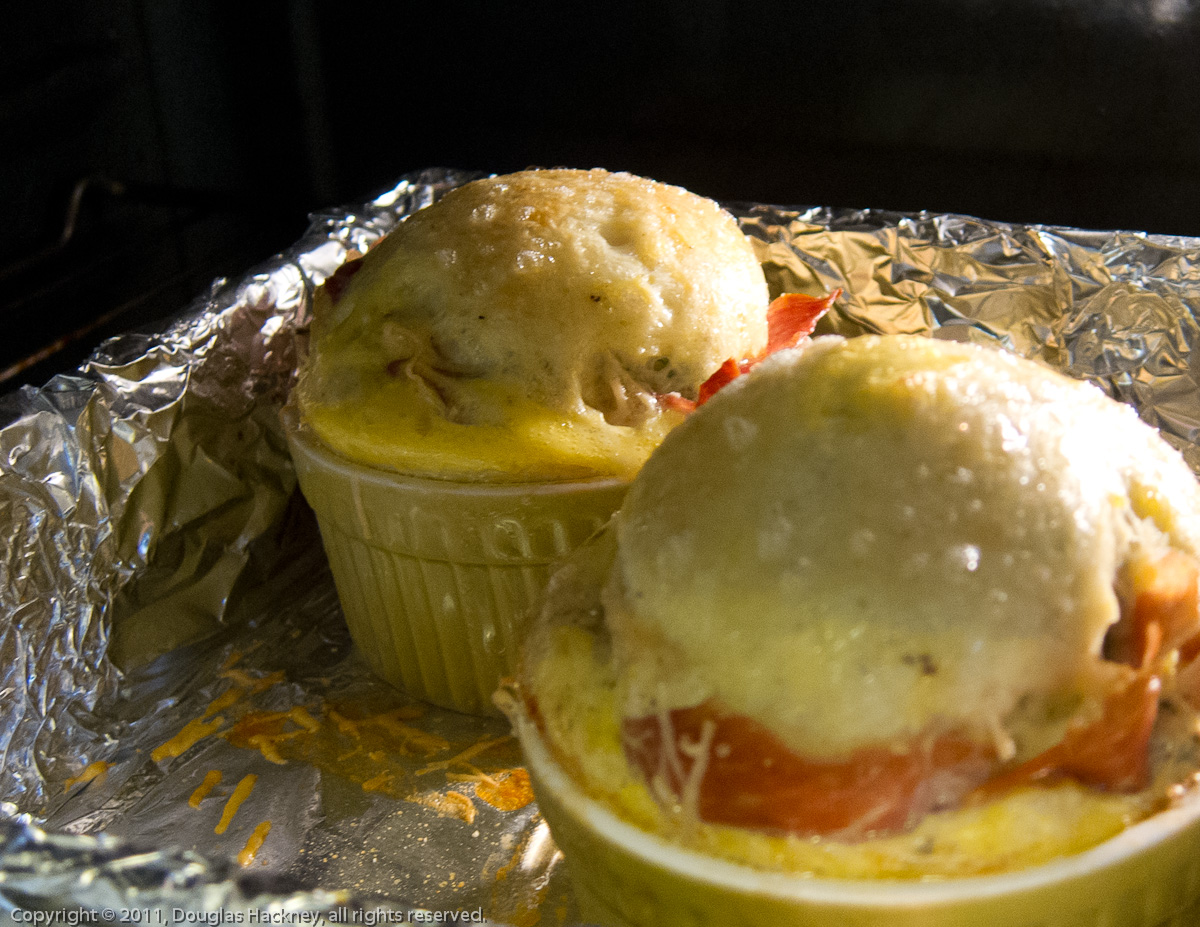 The result is this. What a way to start the day.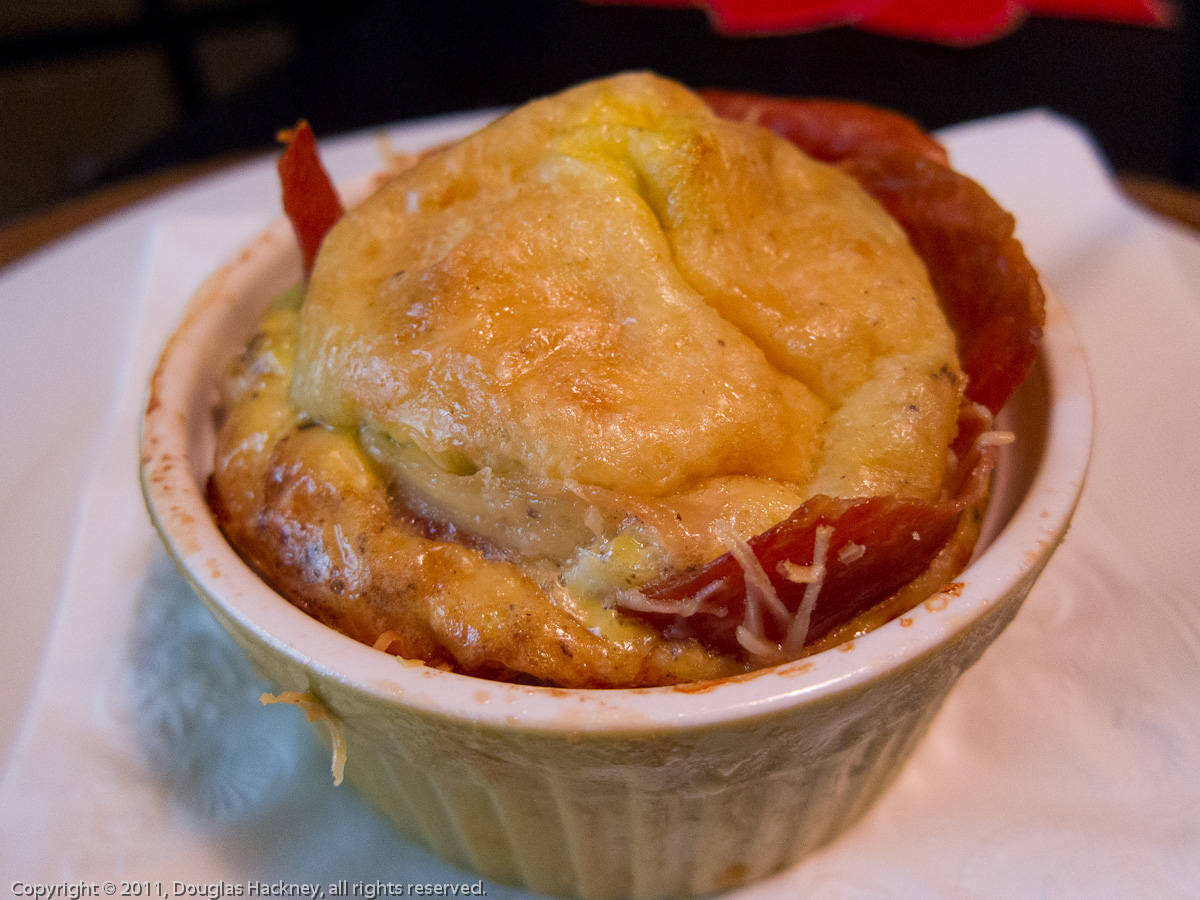 Meanwhile, Shaun was prepping the crab cake appetizers for dinner. That's a bowl of crab meat in the foreground. The crab cakes were actually Latkes (a type of potato pancake) with crab and other ingredients (secret chef stuff).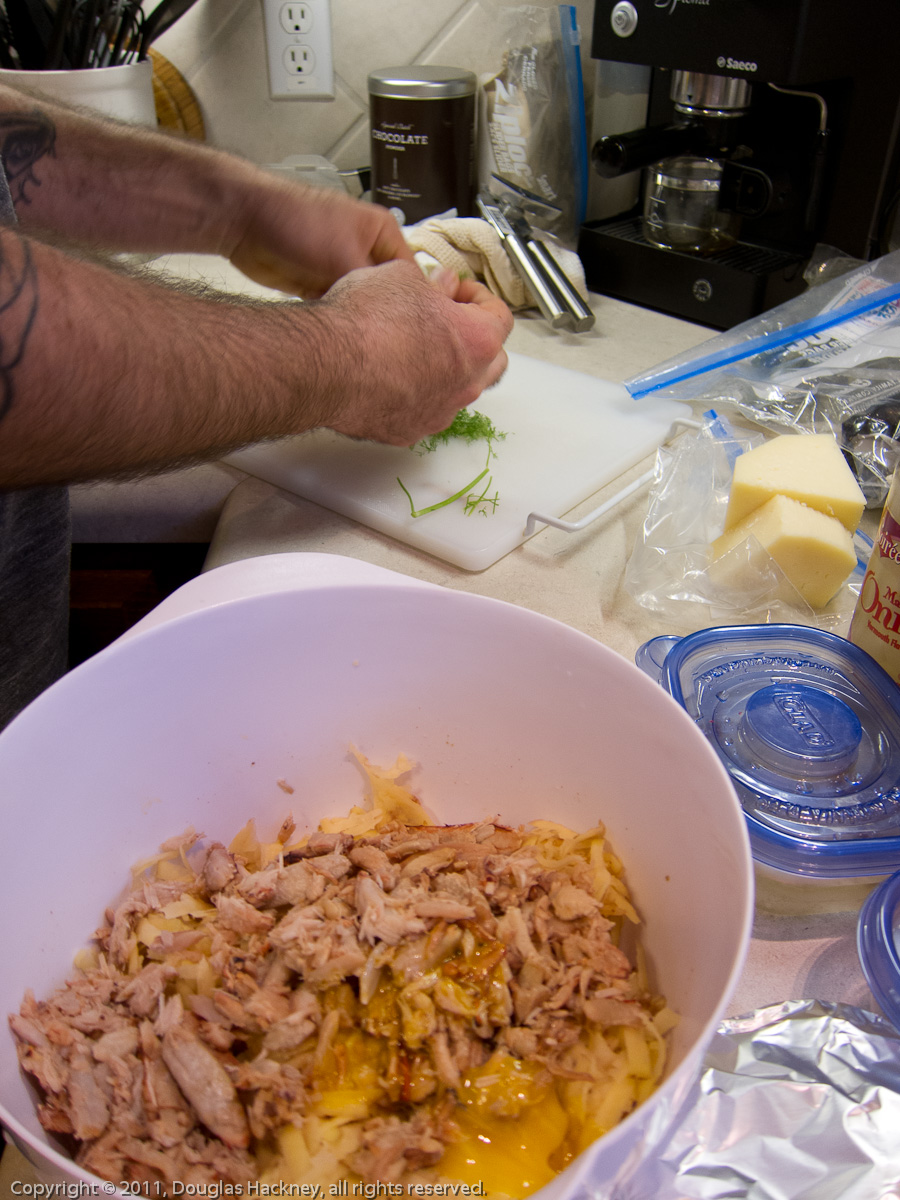 Crab cake / Latke prepped and ready for cooking.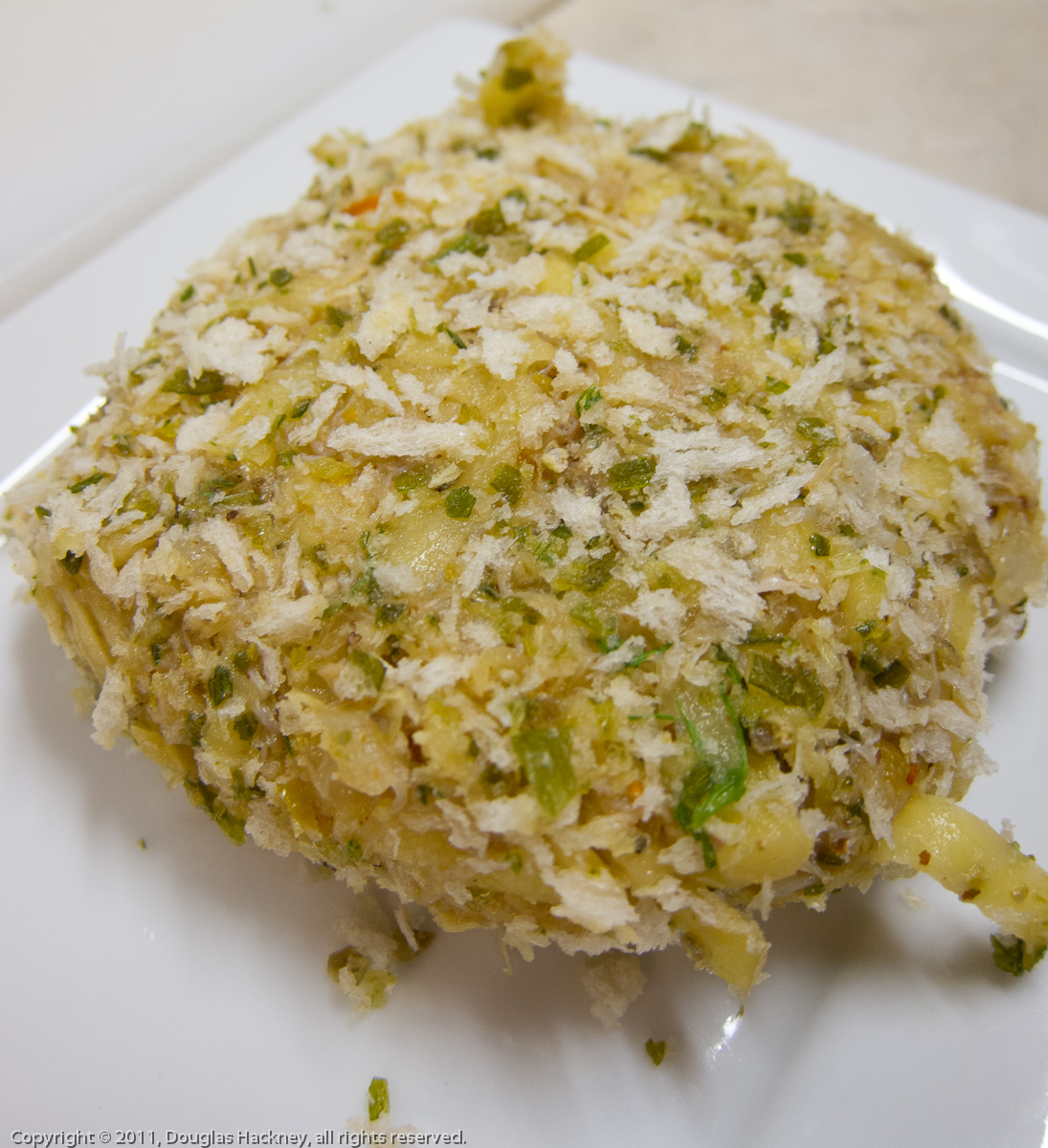 Shaun made me a preview in the afternoon so I could try one. The sauce on top is a mixture of secret chef stuff – just call it "perfect accompaniment."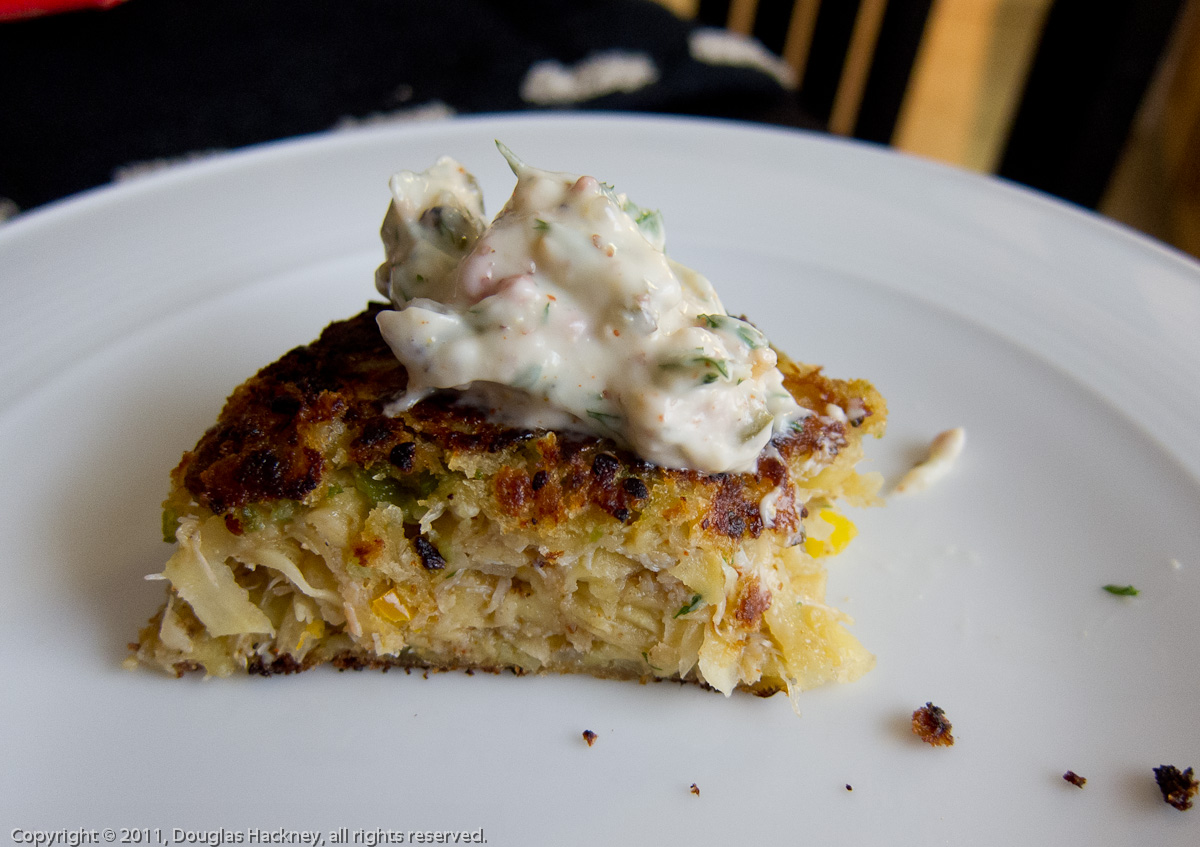 One of the secret ingredients of the holiday was this: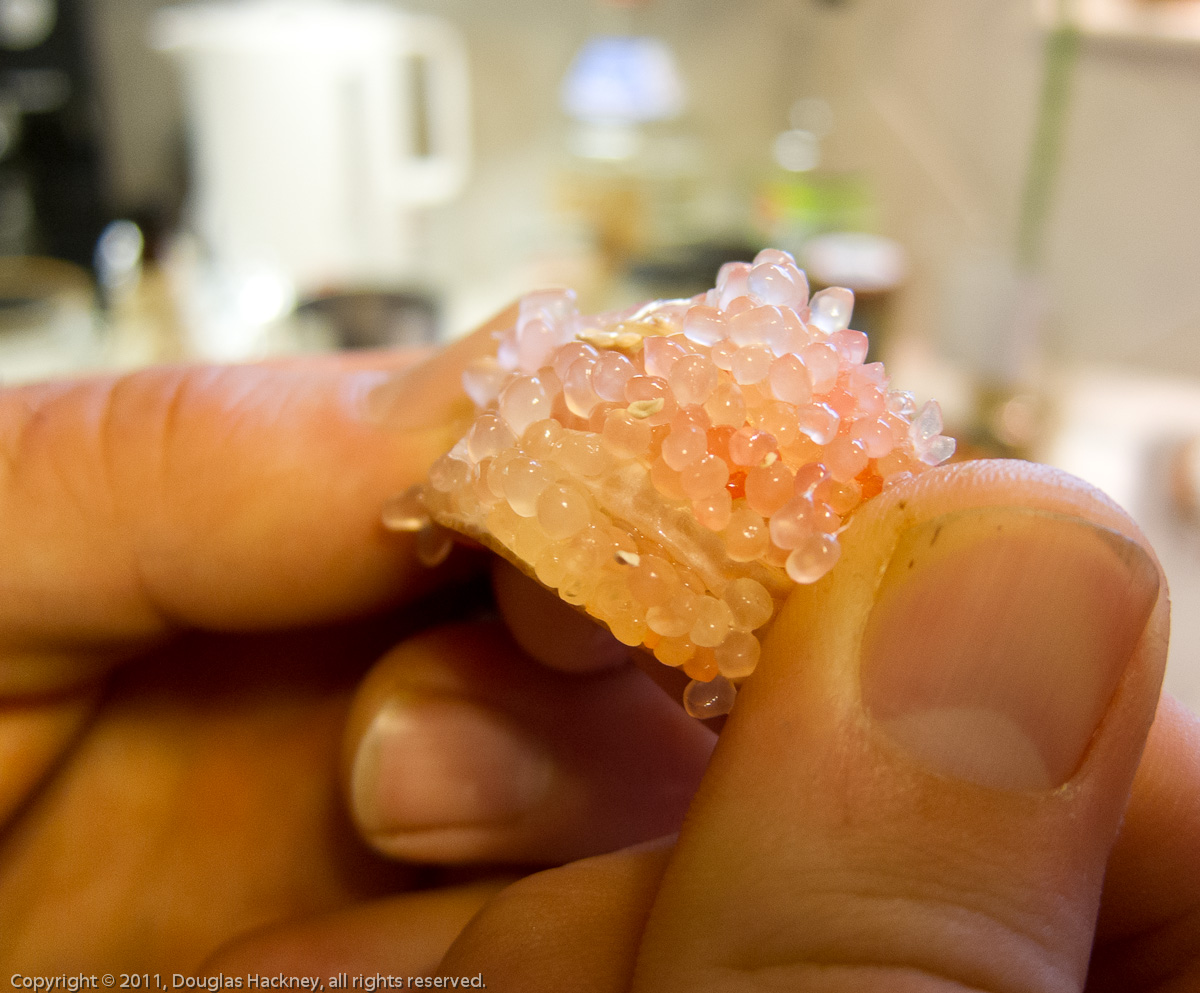 It's a Finger Lime. They are originally from Australia. They are rare here on the commercial market and correspondingly expensive.
Through a fulfillment error, this package was not delivered to one of the top Japanese restaurants in town and Shaun was able to procure it. He told us that there were only two places in Austin this weekend enjoying Finger Limes: One of the most expensive Japanese restaurants and the Hackneys.
They have a wonderful, delicate taste and the texture is like lime caviar. Highly recommended if you ever see them at the market. Be prepared for sticker shock.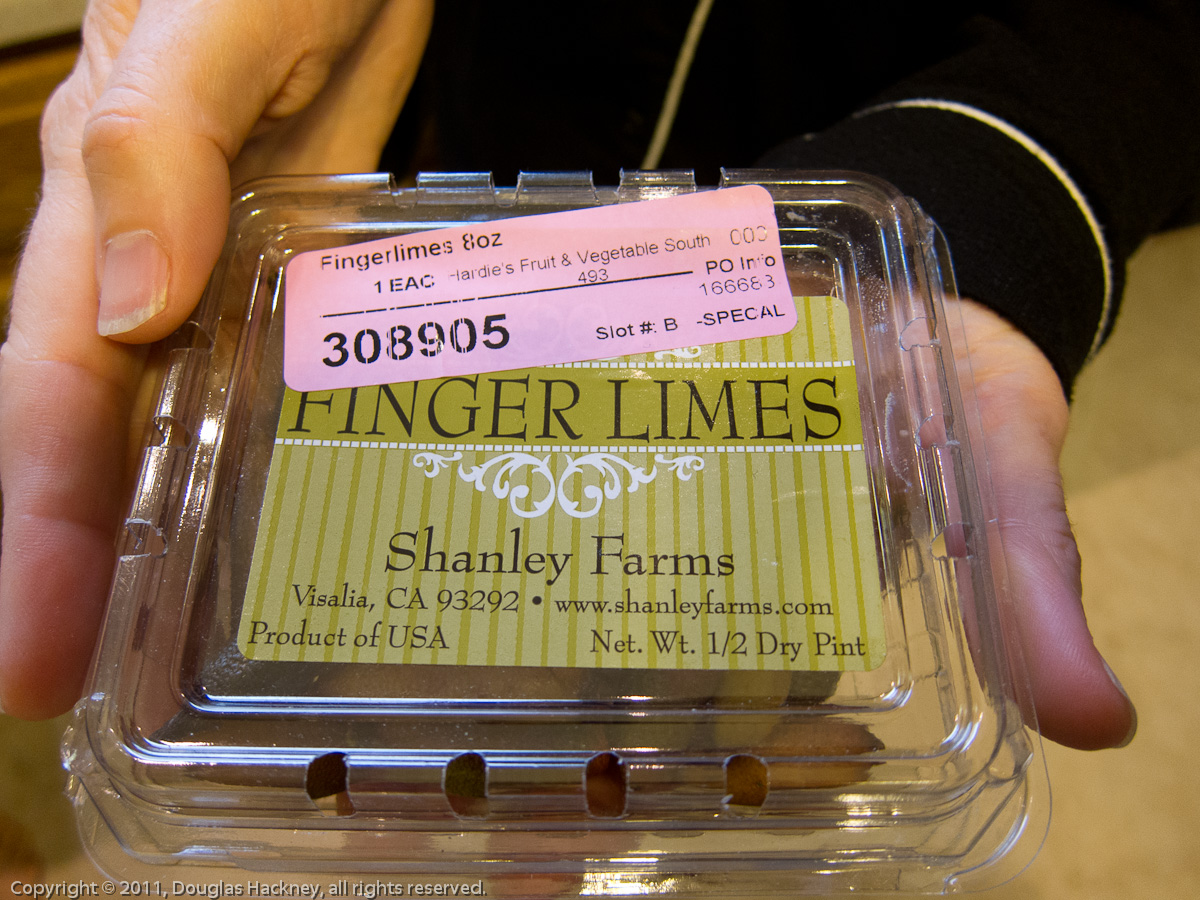 $25 worth of Finger Limes: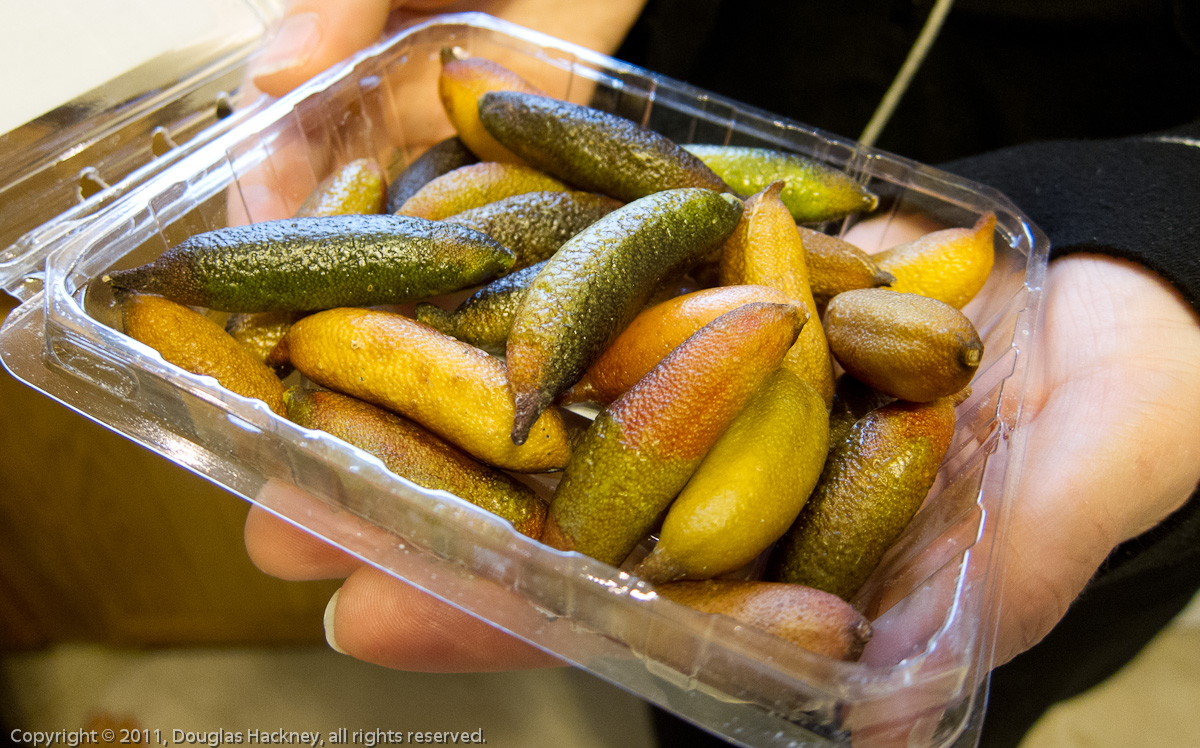 Another theme ingredient for the weekend was mint. In addition to the Finger Limes, Shaun brought two pounds (about one kilo) of beautiful fresh mint. It was used in a wide variety of drinks and dishes throughout the holiday.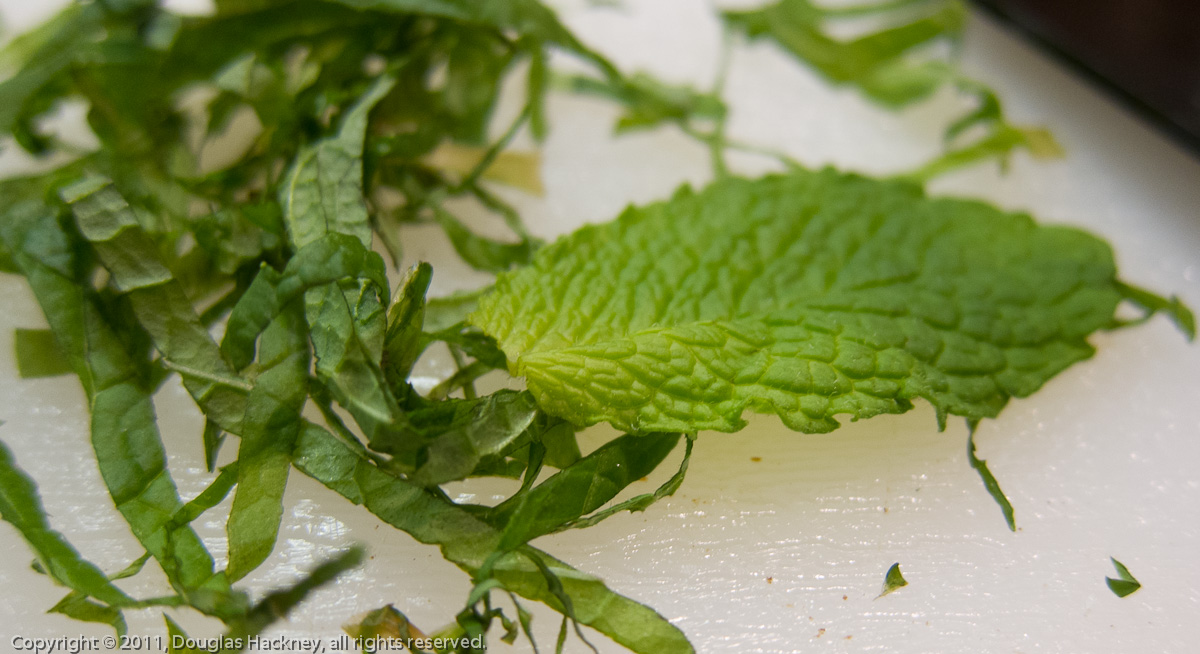 Broiled "finger squeeze" onions in an orange and other stuff sauce. No, I don't know the details and no, I can't recall everything that is in this or exactly how he made them. I just show up, eat, and smile a lot.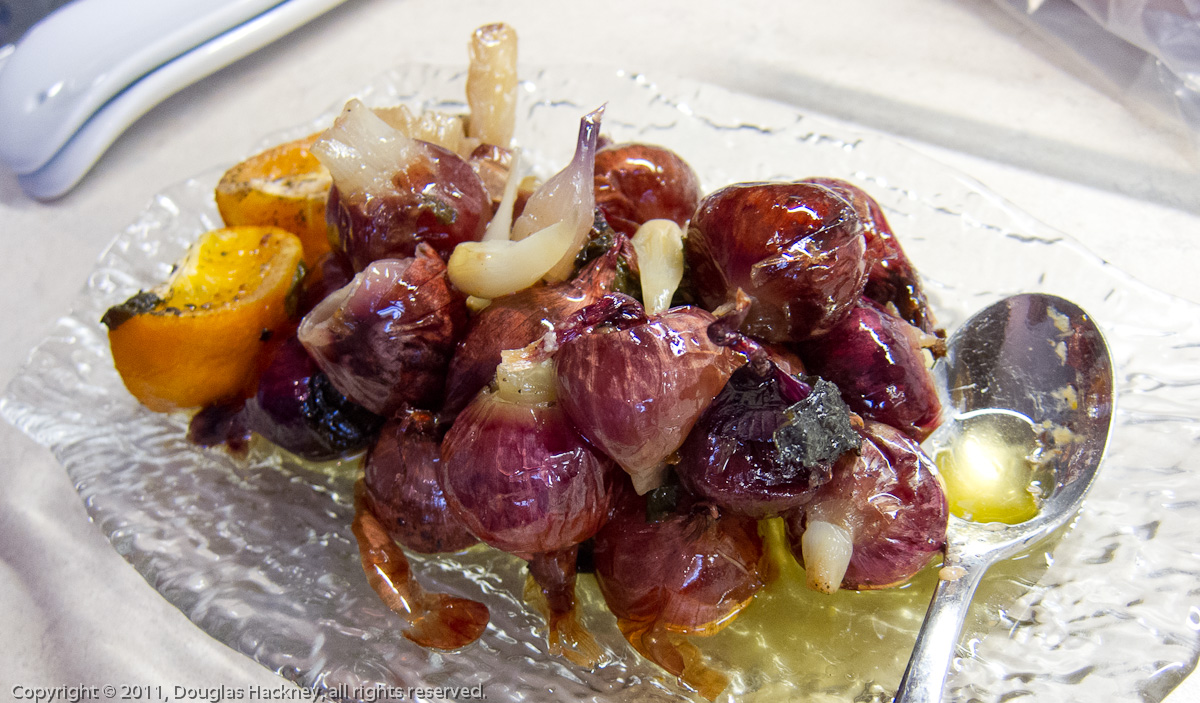 Christmas Dinner.
Shaun plating the Crab Latkes.
It is a rare treat to know someone who is passionate about their career and who matches that passion with creativity, skills and perseverance. It's really cool when that someone is one of the kids.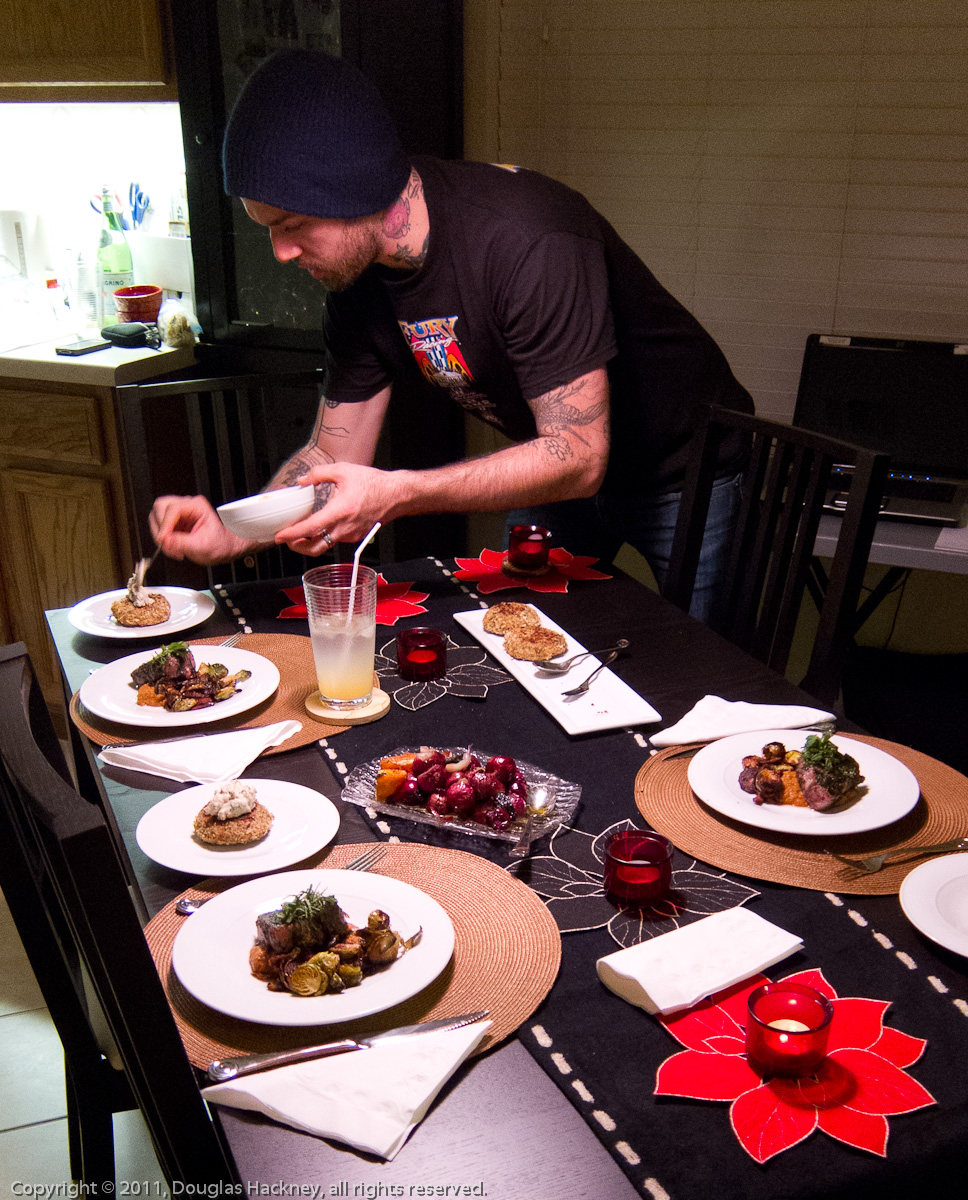 Brussel Sprouts with bacon, carrot & balsamic & secret chef stuff puree and lamb.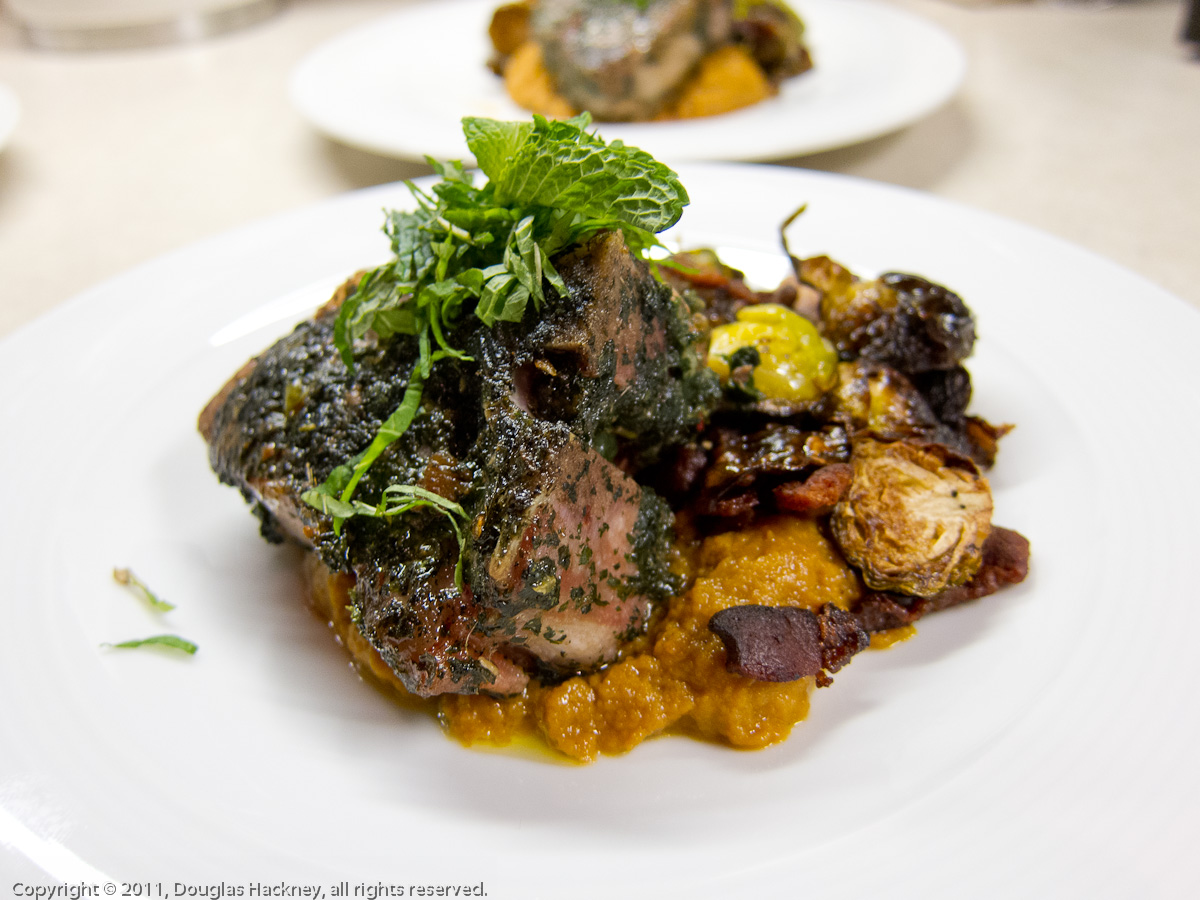 Yes, it did taste as good as it looks.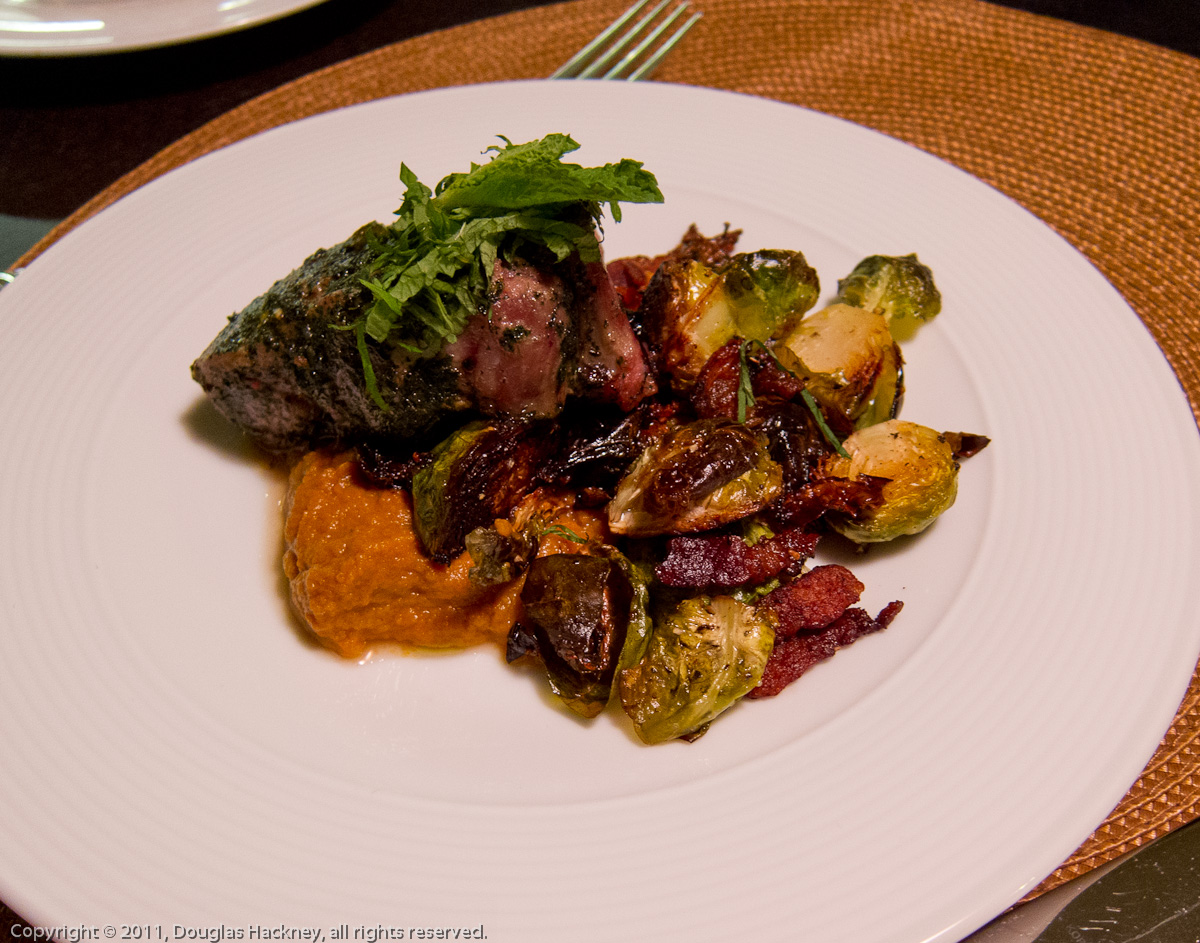 Shaun after two days of non-stop creation of culinary delights. I guarantee you he's dreaming about new ways to create new dishes from new combinations of flavors, textures and ingredients.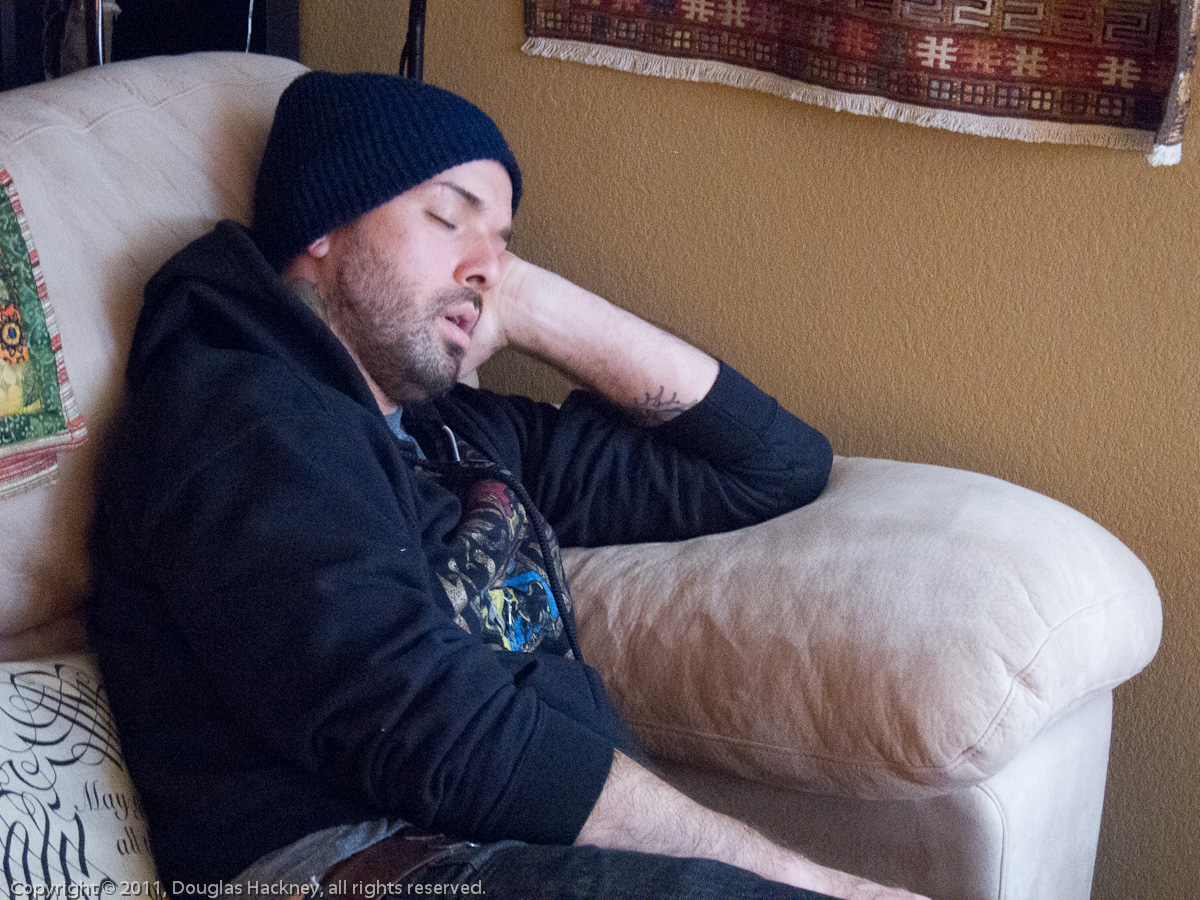 So, bottom line: If one of your kids expresses an interest in becoming a chef, be brutally realistic about the incredibly difficult road that career entails; but, if they make it, be prepared to enjoy some amazing fruits of their labors.