Reading Posts
Scroll down on the home page to view the available posts.
Some posts are short and you can read the entire post on the home page list.
For longer posts, you can click on the title of the post or on the "Read the rest of this entry »" link. Either method will open up the whole post for you to read.
After the full post opens, you can navigate directly from one post to the next newer or older post by clicking on the post titles, such as in this example (click on the image for the full size version):

---
Subscribing to Autopsis
Subscribe via RSS
You can subscribe via RSS feed by clicking on the RSS link. (click on image to display the full size version)

Subscribe via Email
You can also subscribe via email. This option will send you an email each time I post to the blog. To subscribe, enter your email address and click the "Subscribe" button as shown here. (click on the image to display the full size version)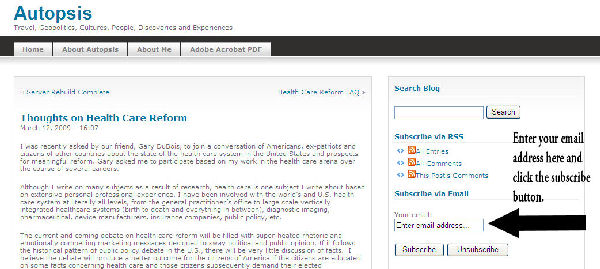 ---
Log In
There is no need to log into Autopsis to read posts or comment on any post.
---
Other Questions, Problems or Issues
For any other questions, problems or issues regarding the Autopsis blog, please email me by clicking here: email Douglas Hackney
---