This photo in today's Wall Street Journal caught my eye. It accompanied an earnings report story on John Deere.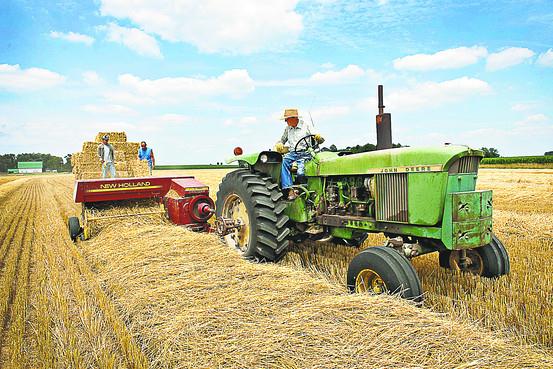 Source: http://online.wsj.com/article/SB10001424053111903639404576513981361991242.html?mod=ITP_marketplace_4
I thought about the conversation or email that must have solicited this image back from the media library people: "Need 4 column photo for Deere & Company" Somebody down there dutifully ran a keyword search for "Deere & Company," perhaps even including "tractor," and this is what they picked from the results.
The media library sent the photo up to editorial and it got inserted and then at least one editor reviewed the layout, clicked on "approved," and out it went to the world.
The Wall Street Journal's perception of Deere & Company, agriculture and the Midwest, all nicely summed up in a photo.
How very quaint.
As the story states, Deere & Company is the world's largest manufacturer of farm machinery by sales.
Deere & Company is currently projecting a full-year net income of $2.7 billion. That's billion with a B and that's net income, meaning revenue minus costs, also known as profit. They had revenues of $8.37 billion last quarter alone and reported revenues of $26 billion in 2010. That same year, 2010, Deere & Company ranked 107th on the Fortune 500 list.
In 1837 John Deere was a one-man show operating out of a blacksmith shop. Today, it is a very big company, employing over 55,000 people and selling more than $26 billion dollars in products and services worldwide.
Their current top of the line wheeled farm tractor is a 9630.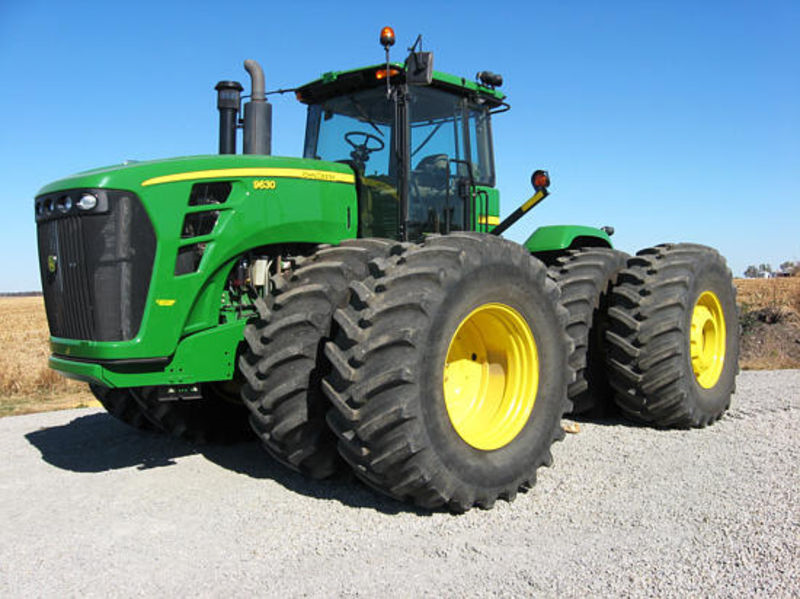 This particular example, a used 2009 model with 2,014 hours of operation, will set you back $234,900.
You can build a quote for a new one here: http://www.deere.com/servlet/ProdCatProduct?tM=FR&pNbr=9630_RW
So, we've got a $26 billion dollar company that sells quarter million dollar tractors, and what photo does the WSJ pick to illustrate its products and market?
This one: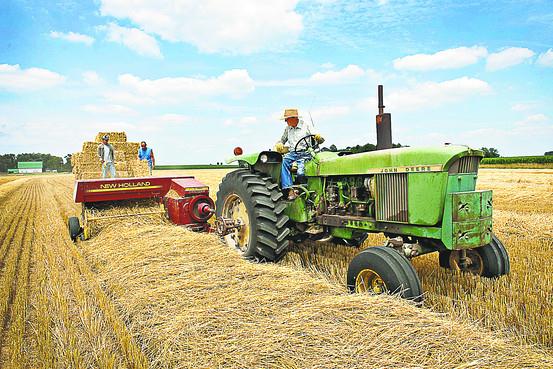 I'll pause here for snickers and guffaws from those who grew up around farms.
To those of you who are not from agricultural states, the hilarity of this image may escape you.
The reasons the photo is so inappropriate include, but are not limited to:
The tractor is an antique. I'm not a John Deere aficionado, so I can't be sure of the exact model, but it looks like a 4020 era tractor to me. The 4020 was introduced in 1963.
There are farmhands in the photo. In the late 1800s, around 80% of the U.S. workforce was employed in agriculture. Currently, agriculture employment is less than 2% of the economy. Almost nobody works down on the farm anymore, especially baling hay.
They are using a small square baler. And, it's not even a John Deere baler. Since nobody works down on the farm anymore, most farmers use large round or large square balers and handle the resulting bales with tractors. Small balers are rare, and if you find them, they include a mechanism to throw the bales up into an enclosed hay rack or they drop the bales onto the field for later mechanized collection. As to the brand, John Deere sells a full range of balers, including small square balers.
They are using a flatbed hay rack. As illustrated in the photo, this requires two guys on the hay rack to stack the bales. Meanwhile, back at the barn, there are three or four guys offloading a hay rack onto an elevator and up into the hay loft, where the bales are manually stacked to the ceiling. Yes, it's a very hot job up in the hay loft on a muggy August afternoon. In total, that's a crew of five to six, not including the farmer on the tractor. See point #2.
So, as a photo of a bygone era that almost perfectly captures my memories of baling hay as a kid, yes, this photo is almost optimum (I baled a lot more hay than straw).
However, as a photo to represent a $26 billion dollar global behemoth, not so much.
I think the folks at the Wall Street Journal would profit from a group field trip out to learn where meat comes from and what modern agriculture looks like.